"Nature left alone is in perfect balance."
- Masanobu Fukuoka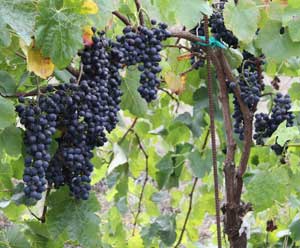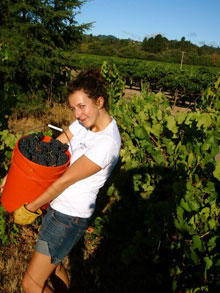 Maria
loves
getting up before dawn
to pick grapes.
Our grape growing style is inspired by the "do nothing" method of the Japanese farmer and philosopher Masanobu Fukuoka, who believed that "the earth cultivates itself, and there is no need for man to do what roots, worms, and micro-organisms do better."
There's no tilling or cultivating in our vineyards, and no additional fertilizers are used. Clippings from mowing and pruning as well as the organic bi-products of harvest are all returned to the soil as mulch.
The Green Valley area is blessed with Gold Ridge soil, and its sandy loam allows for deep root penetration and eliminates the need for irrigation. Once established, our vines are dry-farmed, creating a smaller yield of fruit that is intensely flavorful.
The vines in our small plots don't dominate the landscape, but are a part of its fabric. Scrappy old apple orchards, flourishing native weeds, and rambling wild blackberry vines are all part of our terroir.